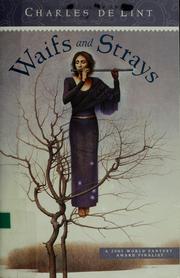 Charles de Lint's Waifs and Strays sits comfortable between a collection for Young Adults and a collection about Young Adults. Although four of the stories appear in other short story collections by the author, this collection focuses specifically on teen protagonists, and move throughout many of the worlds previously created by de Lint, whether in realms of high fantasy, the world introduced in his science fiction novel Svaha, stories he contributed to the Borderlands series and many stories set in Newford.

For me, the standouts were the two stories about the Apple, a teen vampire (which sounds horrible when I write it out that way) who is desperate to understand her new condition and hopeful for her future. Unlike the Twilight series, there is very little glorification of the vampire condition in these stories and de Lint works to get the reader very invested in Apple and her family.

In addition to some really great stories, each entry also includes an introduction (ranging from a paragraph to a page) giving background info for the story as well as suggestions as to how it fits in his increasingly expanding fictional world.

A great introductory read to de Lint and although I had read four of the stories before, I happy reread each of them, finding them to be like old friends I hadn't seen in a while, but was happy to spend time with again.