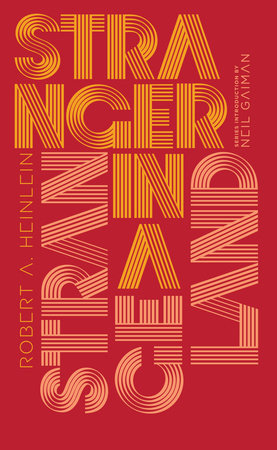 Reading Robert A. Heinlein's 1961 science fiction novel Stranger in a Strange Land was a curious experience for me; on one hand, the concepts - an examination of humanities strong focus on religion and monogamy from the point of view of an outsider were quite interesting - while on the other hand, Heinlein's views on women were dated to the point of extreme distraction.

The book follows Valentine Michael Smith, the human son of Earth colonists on Mars who was in turn raised by Martians and his visit to Earth as ambassador from Mars. Much of the focus of the book begins with ideas of misinterpretation and communication; at first human authorities hide Smith away and attempt to get him to sign away the rights he has to his own vast fortune as well as potentially the entire planet of Mars. From Smith's point of view this is all irrelevant as the Martians have sent him for an entirely different purpose.

Smith quickly makes friends with a nurse named Gillian and her journalist boyfriend Ben Caxton. A daring escape follows and the majority of the novel focuses on Smith's relationship with Jubal Harshaw, a writer/doctor/lawyer who offers the Martian asylum. Harshaw has three secretaries (a blonde, a brunette, and a redhead) who work in tandem to satisfy his professional needs - the blatant sexism here (perhaps seen as charming when the book was published in the early '60s) definitely pulled me out of the narrative repeatedly, reminding me that when reading any fiction it's important to keep in mind the context in which the story was written.

The book itself was a touchstone for American counter-culture in the sixties and introduced the concept of "Grok" meaning a sort of total understanding of another, and even introduced the waterbed in concept.

A compelling read, but historical context is key to making it through.