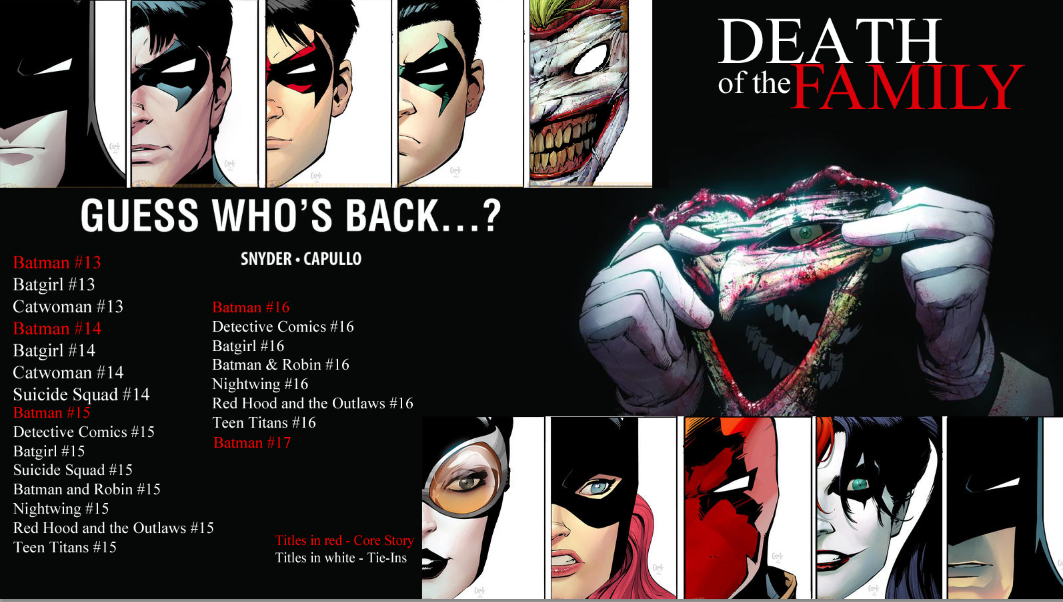 This week focused largely on the Death of the Family storyline, a successor to the A Death in the Family story (1988-89), which was both the first time I recall reading a full Batman story, and the first time I can recall being really freaked out by a comic, (sorry for the 14-year-old spoiler, but Jason Todd, Batman's second Robin, is brutally murdered by The Joker in that story), so I was pretty nervous going into this new crossover event to see how effective it would be.

A tense week of reading and a few nights of restless sleep later, I've got to say this is some pretty terrifying stuff. The Joker has returned to Gotham and has decided that a new, kinder Batman, supported by a Bat-family, is no good, and as a favour he has decided to help Batman get back to the basics, by killing every sidekick Batman has (or has had).

As this now includes Damien Wayne, the newest Robin and Batman's ten-year-old son, this event gets into some pretty terrifying places, and although I don't want to spoil anything, it is well worth the read and has me excited to see what else the good folks at DC have come up with in the last few years.