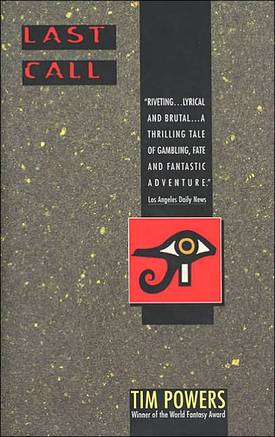 Working my way through the best novel winners of the World Fantasy Awards (WFA), I've discovered a lot of pretty great authors and rediscovered a few I hadn't read in a while. Tim Powers, for instance, wrote both a great fantasy novel I read years ago called The Drawing of the Dark (1979) and The Anubis Gates (1983) a pretty amazing time travel story as well.

So I was happy to return to this list after a few years and check out his 1993 WFA winner for best novel, Last Call.

The novel mixes card games and magic in a similar way to Fritz Leiber's Conjure Wife (1953), only in that one it was magic mixed with the academic world of Post Secondary Instructors and their spouses.

The book focuses on Scott Crane, a man with a complicated past, the origins of the city of Las Vegas and a magic system strongly tied in with games of chance and Tarot cards. Part of what I've loved about all of Power's books I've read is the fact that his fantastic elements seem to have so much work behind them; not only is the magic in Last Call well defined, but different characters understand it to different degrees and find it works (or doesn't work) in varied ways depending on what they are doing.

The story also ties in with the legend of The Fisher King, includes ghosts, questions of destiny, and family relationships. Although it did take me almost a week to read, I found the book to be quite engrossing and plan to check out the sequel Expiration Date (1995) later this month.