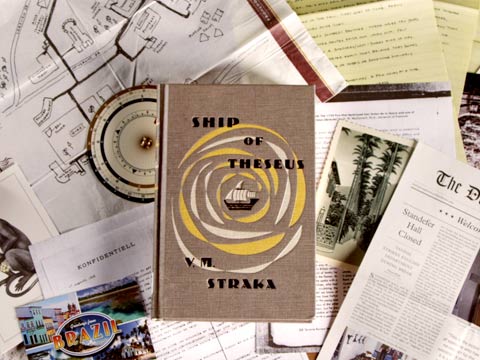 For the last few days I've been working my way through the book S. by J.J. Abrams and Doug Dorst. Which is kind of strange, because the book is a story within a story (or better put - a story in the margins of a story), as the story exists on two levels: first a fictional 1949 novel called Ship of Theseus by a fictional author called V.M. Straka, and then a second story, written in notes left in the margins of the book by two university students.
As a soon-to-be librarian (2 weeks and counting!), I love a lot about this book, the fact that it practically begs to be re-read, the various letters, post cards and even a map written on a restaurant napkin slipped between various pages and the fact that even through the book is not yet a year old, it looks used, discoloured and works in a way that I don't believe could be replicated in an e-book format.
Also the book is a "stolen" copy from a high school library, so that's a little appalling, but with the compelling tale it includes I'll have to borrow a word from my friend Ron and simply call the story compalling.
A little reminiscent of Nick Bantock's Griffin & Sabine trilogy, or Mark Danielewski's House of Leaves, S. is fascinating reading.